---
Product Description
Tymon's GAN 11 M Pro 3x3 is a smooth, fast and controllable magnetic 3x3. This puzzle is lubed with Weight 5 on the core, Angstrom Gravitas, Angstrom Dignitas and DNM-37 on the pieces. Combined with moderately loose tensions and the strongest spring compression, this puzzle is perfect balance between speed and stability. Tymon's GAN 11 M Pro 3x3 is an exact replica of the cube used by Tymon Kolasiński to set his 5.09 3x3 WR Average in December 2021. This puzzle comes with the record-breaking 5th scramble applied: F2 R2 F2 L2 R2 U' L2 D2 B2 U' R U' B2 F' U R' U2 B' F2 U2
Cubicle Premium Cube Guarantee: The workmanship on premium cubes is covered by our 6-month warranty. For more details of the warranty and what's covered, please refer to our Premium Warranty page.
Original puzzle made by GAN. It features a Tymon Kolasiński signature logo on the white side. 
Setup:
Core Lube: Weight 5

Piece Lubes: Angstrom Gravitas, Angstrom Dignitas, DNM-37

Compression: 5
Tension: 3
Magnets: Light
Comes With:
 Tymon's GAN 11 M Pro 3x3

Cubicle Cube Stand (Assorted Color)

Additional tensioning accessories



World Records: 
5.09 3x3 WR Average - Tymon Kolasinski, December 2021
Our Promise to You
All of our products are guaranteed to be free of defects, or we will replace and reship at no cost to you. Please contact us within 4 weeks (28 days) past the delivery date to report any issues with items you have purchased.
Please note that some new cubes when being used for the first few times may experience what is termed a "pop". This is when one or more parts of a puzzle pop out without any damage actually being done to any of the pieces. This also occurs from time to time during normal usage. Pops are typically not considered a defect if the parts which come off can be reassembled by hand.
The corners on 2x2 puzzles should not be twisted as doing so may snap the piece. Damage caused by corner twisting is not considered to be a defect.
Fast & Free Shipping Available!
Free standard U.S. shipping (includes Hawaii, Alaska, and AFO/APO) (2-5 business days) is offered for orders with a subtotal of $55.00+. Free expedited shipping (1-3 business days) is offered at $85.00+.
All orders are shipped from our New York warehouse.
Orders are shipped the same business day they are placed, or the next business day. The cutoff for same day shipping is 3PM EST.
There is no processing/handling surcharge — all our shipping rates are at rock-bottom.
For our customers outside the U.S.:
We ship to all countries not sanctioned by the U.S. government.
We advise that you look into your country's customs laws before ordering.
Pretty dope
I am a rookie and still use the beginner method about 1:30 range so I don't know if my opinion matters but I like it, smooth and buttery, nice and rigid feel
Amazing
I don't think I've enjoyed turning ANY cube (NxN, shape mods, minx puzzles, etc.) I've been passively cubing for 8 years (2014-2022), and this is the smoothest and nicest cube I've ever had the pleasure of turning. Amazing.
Amazing!
It was an amazing cube. Smooth turning, great corner cutting, and overall amazing. Plus it's cool to have a cube used by the world record holder! Must buy if you can.
Good not Great
When unboxing this cube tears of joy dropped to my cheeks. The first turns were butter. Smooth and fluid. When compared to my Gan 12 Maglev which turns like a gram cracker this turned like luxury. Still not my main though, will be using the Gan 12. I average 8.7 on this cube 3 tenths off my average.
very good
at the beginning it was very slow and smooth, but after a bit of break-in it got WAY faster. The cornercutting is very good (it cuts almost everywhere), but maybe it is too fast haha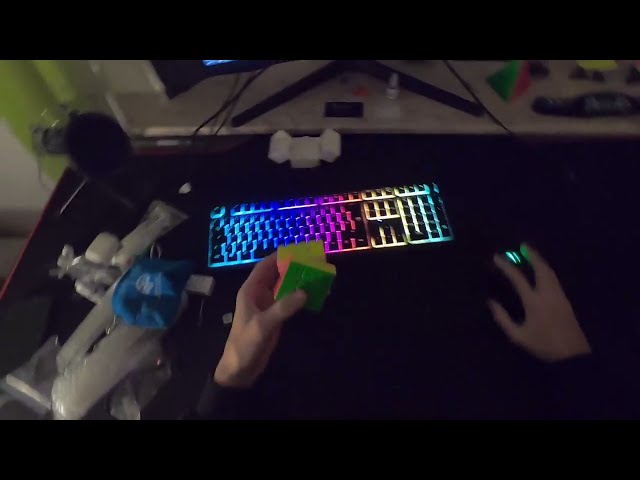 Wow
This cube is excellent! reminds me a little of the Angstrom 11M Pro, but somehow seems more controllable and lighter
The Logo is very Clean looking, and adds a bit of style to it!
New main for sure!
I like this one a little better than my Angstrom 11M Pro
Great Job to everyone at The Cubicle and Tymon for producing this high quality speedcube!
Congrats to Tymon on his impressive record as well!