Perfect.
This is t(e best cube I've tried, felt perfect out of the box and on,y got better after break in. Perfect corner cutting and speed and I love the fast feel. Didn't have to do any extra setup to it
Good
I just unboxed this cube and was really suprised by how fast and "tight" it was. I didn't know about the purple internals either and when I checked, it wasn't maglev (I also unboxed the Pro Shop one, and it also has purple internals and stronger magnets. The Pro Shop one is a bit slower than the Mystic version, but that was also the case on the Pro Shop Super RS3M. I will break them in equally and see which one will be better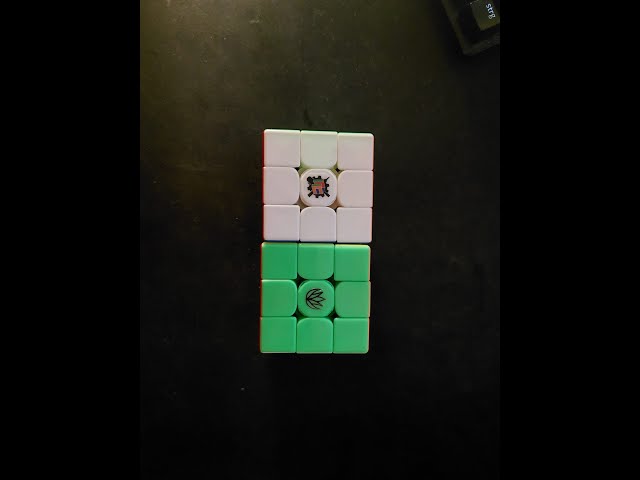 Wow !!
WOW, before getting this cube my main was the gan 11 m, This cube amazed me how good it was. perfect magnet strength not to strong not to weak but more on the weaker side which I like. The mystic gives the puzzle a unique feeling Fast Smooth and Controllable. Such a good cube
So soft.
This cube is very quiet out of the box but kinda slow. The cube got a little bit faster but pretty much stayed the same. This is my first Mystic puzzle and I am not disappointed but it doesn't compete with the many GAN cubes. I really like it but isn't the best in my opinion and doesn't deserve all the attention it is getting. I like this cube very much but I am a GAN person and Moyu is a very different company. So, in conclusion, if you like GAN cubes, you may not like this cube. But... GOOD cube overall.
OMG
This is hands down the best cube I own. I received it more than 2 weeks ago and wanted to test it so writing a review now. This was a bit gummy out of the box but was very smooth and slow. After a bit of break in, it was a good speed and was silky smooth. The cube is now my new main and I prefer it over some nice cube lik the gan xs, rs3m 2020a,valk elite and the Dayan tengyun v2m. This now my joint main with the gan 11m Pro. Buy this if you have the budget and want to get a good cube. Amazing job done by the cubicle!
Amazing! new main
ootb this was a bit slow and gummy. However, with some break in and a drop of DNM, this became my main! The mystic setup gives the cube a fast yet controllable and soft feel, rarely locking up. Also very good for OH bc of the smaller size and its natural speed
woah
cube controllable fast stable. needs a lot of break in but when that done the cube hits perfect cube. The only gripe i would give is its weight its a little heavy but it is in my main circle and beat every Pb except single on it. Althought i havent tried the new one I can say this is a great cube
LEGITIMATELY BAD, I'M DISAPPOINTED
I have so many problems with this cube. Before you discount me as the one bad review, please listen to my complaints. The mystic wrms that I have tried have been the greatest cubes I have ever tried, for sure. Super smooth, fast, and unique, who wouldn't want one. But the cubes that you get in the mailbox, tend to be totally different. I get what it's like waiting for cubes to break in, and I see many people in the comments do as well. Usually you do a couple hundred solves and then there is a magically unique feeling that the lube provides that makes for an excellent solving experience. The problem with this cube is that it broke in (I think) but it still felt bad. I could tell that there was some lube in there from the beginning, that it was sticky and all, but it didn't make the cube faster, better, or smoother, nothing like I had tried from them at some of their stands. The cube had bad corner cutting, was tight on even the loosest settings, and was really too heavy as well and tired my fingers out. The thing I really don't appreciate is that they advertise and can clearly make these cubes great, but ship ones to me that clearly aren't that. For ten extra dollars, I'd like to think someone is doing at least one solve on the cube to check its top notch before sending it as mediocre as it is received, I'm sure they wouldn't main what I received either. My angstrom cubes I love, buy those instead of the mystic brands, the cubicle appears to take more care with their angstrom cubes as I've heard from others. The dnm and andgstrom lubes are classics. With dnm, there is automatic gratification, its faster. With angstrom lubes, holy moly its smoother. But with mystic lubes the cube doesn't feel better with them and they don't seem to make the cube better or offer a unique feel. I like their innovations, but the classic angstrom for any cube is the way to go in my opinion.
This cube is a bit slow ootb but after working in it gets really fast. One problem or kind of annoying thing is that there is spring noise that I didn't expect.