---
Product Description
The QiYi MS 2x2 is a magnetic 2x2 speed cube built for performance and economy. Part of QiYi's new economy "MS" line, this 2x2 has an unbelievably light and quick feel. This puzzle is sure to please beginners and advanced solvers alike.
The MS Series from QiYi is transitioning to frosted plastic. The puzzle you receive may be glossy or frosted.
Our Promise to You
All of our products are guaranteed to be free of defects, or we will replace and reship at no cost to you. Please contact us within 4 weeks (28 days) past the delivery date to report any issues with items you have purchased.
Please note that some new cubes when being used for the first few times may experience what is termed a "pop". This is when one or more parts of a puzzle pop out without any damage actually being done to any of the pieces. This also occurs from time to time during normal usage. Pops are typically not considered a defect if the parts which come off can be reassembled by hand.
The corners on 2x2 puzzles should not be twisted as doing so may snap the piece. Damage caused by corner twisting is not considered to be a defect.
Fast & Free Shipping Available!
Free standard U.S. shipping (includes Hawaii, Alaska, and AFO/APO) (2-5 business days) is offered for orders with a subtotal of $55.00+. Free expedited shipping (1-3 business days) is offered at $85.00+.
All orders are shipped from our New York warehouse.
Orders are shipped the same business day they are placed, or the next business day. The cutoff for same day shipping is 3PM EST.
There is no processing/handling surcharge — all our shipping rates are at rock-bottom.
For our customers outside the U.S.:
We ship to all countries not sanctioned by the U.S. government.
We advise that you look into your country's customs laws before ordering.
---
This product is part of a bundle. Buy together to save 10-30%!
it feels really great
so I really like this 2x2 and I genuinly think it is the bast budget 2x2 and is a more budget version of the valk 2. however, there are some cons. the cube has a hollow budget sound and feel. this makes the cube a little less enjoyable than other cubes, such as the mgc elite and the valk 2. it also (this is not a huge problem) has a noticable anchor corner. this means that the cube has one corner (mine was yellow orange green) that has a little worse corner cutting. the cube has amazing corner cutting, maxing out around 55 degrees, but the corner cutting on the anchor corner maxxes out around 40. the cube is very fast and has really strong magnets (I like really strong magnets). i prefer this over the rs2m evolution, ylm v2m, and the yupo. this is the best budget 2x2 and i would extremely recomend this as a budget 2x2. if you are really seroius event, i would reccomend the MGC Elite, gan 251 m PRO (emphesis on PRO), and if you can get your hands on it, the valk 2. this took a really long time so thank you for sticking around and reading this whole thing. you can watch the video i made on putting this up against the RS2M Evolution.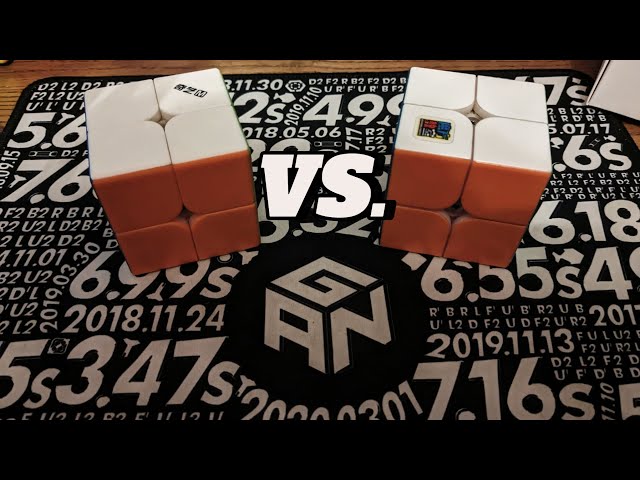 It's good...
I had this 2x2 as my main for a while, but one day, a corner piece broke off. I couldn't fix it, so I had to throw it away. It was good for its time though.
QiYi MS 2x2
Turns and feels great. Both my kids and I find it to be very fun.
it's good
This is actutally a really good 2x2 just dont mess with the corners too much (corner twisting it too much)
Qiyi 2x2
Awesome cube, really good budget magnetic 2x2 definitely recommend to people getting into 2x2!
It's an okay cube works fine
Feels kinda like paper it's a good cube magnets are a little odd but good still for the price it does its job
Buy this cube
This cube is amazing for the price. I have used the gan 251 m pro and honestly I like the feel of this cube better. If you did not know the gan 251 m pro is 40 dollars and this 7 dollar cube is almost as good if not better. I don't do 2by2 much I used to average 10 seconds on 2by2 now I average seven seconds. My only problem is the magnets are very strong and it's a lottle fast for my because I don't practice 2by2. This cube really makes my want to practice 2by2 and get more cubes. this cube it not really adjustable but it feels just fine without adjustments. This cube is overall really good for the price. 9/10
New Addiction!
What's the one thing that sucks about getting free stuff? You might get addicted to something you hadn't thought about. Really didn't think about 2x2 and now I'm going to have to get more of them, learn 2x2 and get faster at that too! Absolute fun puzzle!
Excellent Budget Cube
For the price, the QiYi MS 2x2 is one of the best budget 2x2 options available. It has a smooth, plush feel and is very enjoyable to turn. The only thing stopping me from maining this cube is the ultra-strong magnets--the magnets are so strong you actually have to apply some effort into turning. But for the price, I'm not complaining. 5 stars.