---
Product Description
The Solar S Magnetic 2x2 is a new flagship 2x2 from DianSheng. This cube is very quick out of the box and corner cuts well. The Solar line of puzzles all have a glossy finish.
Our Promise to You
All of our products are guaranteed to be free of defects, or we will replace and reship at no cost to you. Please contact us within 4 weeks (28 days) past the delivery date to report any issues with items you have purchased.
Please note that some new cubes when being used for the first few times may experience what is termed a "pop". This is when one or more parts of a puzzle pop out without any damage actually being done to any of the pieces. This also occurs from time to time during normal usage. Pops are typically not considered a defect if the parts which come off can be reassembled by hand.
The corners on 2x2 puzzles should not be twisted as doing so may snap the piece. Damage caused by corner twisting is not considered to be a defect.
Fast & Free Shipping Available!
Free standard U.S. shipping (includes Hawaii, Alaska, and AFO/APO) (2-5 business days) is offered for orders with a subtotal of $55.00+. Free expedited shipping (1-3 business days) is offered at $85.00+.
All orders are shipped from our New York warehouse.
Orders are shipped the same business day they are placed, or the next business day. The cutoff for same day shipping is 3PM EST.
There is no processing/handling surcharge — all our shipping rates are at rock-bottom.
For our customers outside the U.S.:
We ship to all countries not sanctioned by the U.S. government.
We advise that you look into your country's customs laws before ordering.
Amazing budget cube
It is an awesome cube for the price. It feels like a cube that should be double the price. It instantly became my main
Unexpected
Wow, from all the reviews on this cube I really expected it to be bad. But for me it turned out to be perfect after tightening it a little bit.
Absolutely Terrible cube DO NOT BUY
Cube catches every single turn and is very frustrating to turn. Horrible performance just trust me and buy any other cube just not this or the Diansheng Solar S2M it has the exact same problem
Great cube after some breaking in.
Ootb it is very slow but after like 2 or 3 solves it turns great. Lubed it once when I first got it and haven't lubed it since. Perfect turning speed and decent corner cutting.
A bad version of the rs2m evolution
The rs2m evolution is a really awesome budget 2x2, but DianSheng's version is complete trash. Diansheng is copying MoYu in every way but fails to be as popular as MoYu. My words for the Solar s2m is garbage trash knock-off cube.
Fast but Stable
I love this cube. I love the black internals and the glossy finish. Out of the box it is really fast but it does not feel like it is going to explode. Check out my video for a more in depth review of it.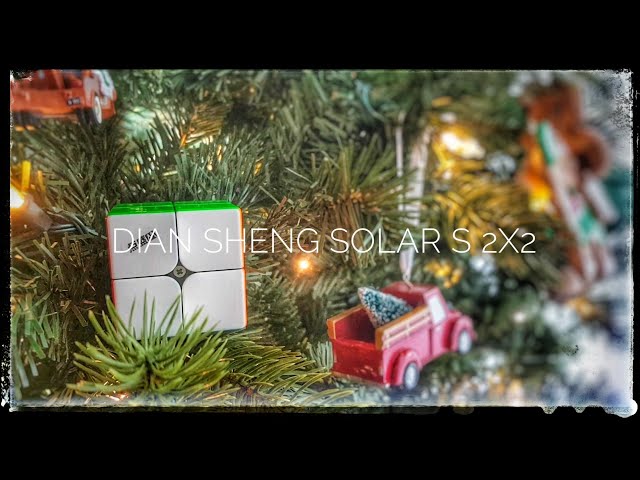 Great but a little too fast
When mine came out of the box it was pretty speedy, I used weight 1 lube and cubicle labs lube, I recommend you try tightening it when you buy it. I recommend this to everyone thought considering it is only 10 USD and has magnets, which is only 5 USD more than something like the little magic 2x2 which has no magnets.
Decent but pops
Pops way too often and is way too fast out of the box. Easy U4 flicks. But the colors and magnets are ok so 2 stars
excellent cube
probably my favorite out of about five 2x2's that I own. It's the perfect size and I like the magnet strength.
Superb Budget 2x2.
So I've been cubing since 2007 and back then Diansheng had a reputation of selling super cheap good puzzles. Along with that they also had a reputation of selling clones/copied mech/puzzles that where also good. But with the 2021 comeback is looking good for them. This 2x2 is super good for the price of it. Out of the box it felt way to fast for me. After I did a few solves I decided I needed to do my own personal lube job on this cube. SO I started by taking it all apart and wiped off as much of the factory lube before adding my own lube. After I did my personal lube set up it still feels fast but not uncontrollably fast. Overall this 2x2 is fantastic and worth it. But if you would like a more slower feeling magnetic 2x2 I would recommend the other Diansheng magnetic 2x2 that came out earlier this year.