---
Product Description
The Yoo Cube is CubeHead's signature series 3x3. This custom built WeiLong WR M 2021 has a smooth, creamy texture from the 
Cubicle Labs Mystic, Angstrom Dignitas, Weight 5, and DNM-37 on the pieces and Weight 5 in the core.
 Out of the box, it has a strong magnetic setting and medium spring compression. 
Cubicle Premium Cube Guarantee: The workmanship on premium cubes is covered by our 6-month warranty. For more details of the warranty and what's covered, please refer to our
Premium Warranty page
. 
Original puzzle made by MoYu. It features a stylized "Yo" logo on the white center. 
Comes with:
Yoo Cube 3x3 
CubeHead designed collector's card 
Special message from CubeHead
Magnet and elasticity adjustment tools
Also check out:
yo yoo yoo yooo yoooo yooooo yoooooo yooooooo yoooooooo yooooooooo yoooooooooo

Our Promise to You
All of our products are guaranteed to be free of defects, or we will replace and reship at no cost to you. Please contact us within 4 weeks (28 days) past the delivery date to report any issues with items you have purchased.
Please note that some new cubes when being used for the first few times may experience what is termed a "pop". This is when one or more parts of a puzzle pop out without any damage actually being done to any of the pieces. This also occurs from time to time during normal usage. Pops are typically not considered a defect if the parts which come off can be reassembled by hand.
Fast & Free Shipping Available!
Free standard U.S. shipping (includes Hawaii, Alaska, and AFO/APO) (2-5 business days) is offered for orders with a subtotal of $45.00+. Free expedited shipping (1-3 business days) is offered at $75.00+.
All orders are shipped from our New York warehouse.
Orders are shipped the same business day they are placed, or the next business day. The cutoff for same day shipping is 3PM EST.
There is no processing/handling surcharge — all our shipping rates are at rock-bottom.
For our customers outside the U.S.:
We ship to all countries not sanctioned by the U.S. government.
We advise that you look into your country's customs laws before ordering.
What is up Cubehead.
I love this Yo cube, this changed the way how I do cubing, I would love to give you an autograph when you come to Greenwood Indiana.
Once you Yoo you never go back
This is my first cube that I didn't set up myself, and I must say, it's such a different experience. I tried to adjust some of the settings out of curiosity and I realized I shouldn't have wasted my time because they were already on what worked best for me anyway. I can get great times on this, it's a super controllable cube and I don't think it has the natural tendency to want to go fast (but you can go zoom zoom with it if you want, I'm sure). I also like how they provide the tutorial for you to replicate the exact feel and so you can get the most use (or should I say yoo) out of the puzzle. Overall so impressed by Milan and the Cubicle team on this collab, such a great partnership.
Yoo-Tastic!!!
I honestly wish that I could give this cube a seven or eight out of five stars. The Yoo cube is my new main, and I love it. The setup and lubes are PERFECT and i love how you can re-lube it by buying the Yoo lube bundle (which I got and enjoyed) and watching Cubehead and Phil's video. Definitely my favorite cube so far, The smooth and controllable turning style is great. I have gotten awesome times on it and I can now focus on the solve without worrying that I will make turning mistakes. Yoo-Tastic job Cubehead and Cubicle!!! Thank you!
The YO cube is amazing
After I used the cube for a couple hours , the cube became so smooth , it was smoother than my old main the valk 3 elite with mystic and weight 5 , the YO cube became my new main .
the new GOAT.
soft turning, insane corner cutting, and a fast yet stable feel. must i say more?
Amazing
It turns so smoothly and has a great feel and very nice corner cuts
Its very good.
This cube is great. It is a little tight for me out of the box but after a little tweaking, it has gotten loose. A little bit papery and soft is what I would describe the feeling. It is very soft and fast after breaking in! Overall a good cube.
Mixed Feelings
The unboxing experience of this cube was absolutely phenomenal, and it is on another level compared to other cubes. The meaning behind the packaging, the OH PB scramble you get with this makes it stand out. Mine came in the Cubicle's 10th Anniversary Bag, which is very high quality. The special message consists of the reconstruction of his OH PB and a thank you for purchasing this cube.
As for the feel of this cube, it was initially slow and very gummy out of the box. This led to me not liking it after doing a couple solves. However, like most premium cubes, it takes time to break in. After doing about 100 solves, I can tell that it is very controllable, but doesn't have much flexibility. When comparing it to my WRM 2019, since I am a rougher turner, I had trouble adjusting to this cube. I still to this day get lockups every so often, especially in last layer, when I'm spamming TPS for OLL and PLL. Maybe I haven't broken the cube in enough, but right now it is right behind my WRM 2019 and GAN 11M Pro for contending for my main 3x3.
Overall, I would recommend this cube to anyone who wants a cube that is very controllable. If you enjoy a smooth and satisfying feel, this cube will be worth it for you. Thank you to CubeHead and TheCubicle for creating this amazing product, it really stands out and is pushing the innovation of the cubing community even further. If you are interested in seeing the unboxing experience and my first impressions, I have the unboxing video of this cube on my YouTube Channel, MC 5tuffz, linked below.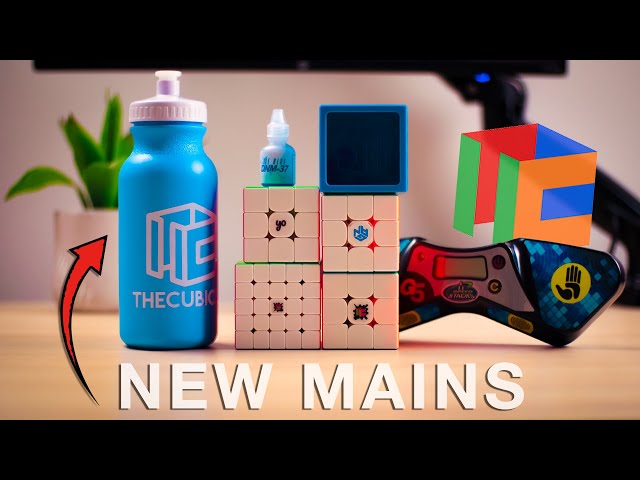 Love it
Moves quick but still controllable. Cuts corners great. The sticker that comes with it for the cube is tight.
Yooooooo!
This cube Awesome!!
I love the feel of this cube, its very fast and yet controllable
it has a nice papery feel and excellent corner cutting! would recommend to anyone looking for those qualities in a cube!
I haven't been a big fan of Moyu cubes since the Cubicle Labs GTS M but this cube has changed that!
As someone who has mained Gan cubes exclusively for the past 3 years, this cube was a pleasant surprise!
Great Job to Everyone at The Cubicle and of course Milan himself for producing my new favorite Moyu Cube!!