---
Product Description
This Speedcubing Mat features a greyscale Cubicle logo on top of a black background. Larger than normal speedcubing mats, this mat measures approximately 24" x 14". 
The dark mode features of this mat definitely make it easier on your eyes while you're cubing at night. 
Our Promise to You
All of our products are guaranteed to be free of defects, or we will replace and reship at no cost to you. Please contact us within 4 weeks (28 days) past the delivery date to report any issues with items you have purchased.
Please note that some new cubes when being used for the first few times may experience what is termed a "pop". This is when one or more parts of a puzzle pop out without any damage actually being done to any of the pieces. This also occurs from time to time during normal usage. Pops are typically not considered a defect if the parts which come off can be reassembled by hand.
The corners on 2x2 puzzles should not be twisted as doing so may snap the piece. Damage caused by corner twisting is not considered to be a defect.
Fast & Free Shipping Available!
Free standard U.S. shipping (includes Hawaii, Alaska, and AFO/APO) (2-5 business days) is offered for orders with a subtotal of $55.00+. Free expedited shipping (1-3 business days) is offered at $85.00+.
All orders are shipped from our New York warehouse.
Orders are shipped the same business day they are placed, or the next business day. The cutoff for same day shipping is 3PM EST.
There is no processing/handling surcharge — all our shipping rates are at rock-bottom.
For our customers outside the U.S.:
We ship to all countries not sanctioned by the U.S. government.
We advise that you look into your country's customs laws before ordering.
Product Specifications

Manufacturer
Cubicle
Type
Accessories
Added
2022-11-30
Gross Weight
229g
Multi-Functional Mat
It's big, it protects your cube when solving, and it looks great! It does everything you want and looks great on your desk as well. I've looked up other computer mats that are around this size for non-cubing purposes and they easily clear $40 or more. So, if you want a mat for your desk, just get this one to save yourself a ton of money.
good
it is good and it fit my desk perfectly and it was the only large mat i could find
Very nice
Since its black, it helps me focus better on the cube and my cubes have less scratches!!
Perfect
I love this mat. I chose this one because I just got a new bigger desk. I heard someone say something about dust, it doesn't collect dust or dirt particles (I haven't even dusted my room in a long time). People also said it was bigger than expected, It is just long.
Cubicle Speedcubing Mat Large (Dark Mode)
Extremely High Quality and Functional
Although the dimensions were listed for this product, I found it to be bigger than I expected. As of right now, I use this mat everyday and am in fact, typing this review on this mat. It doesn't slide around, which is great for cubing and doing tasks such as school work or video editing. My only gripe with this is that it collects dust and dirt particles easily, so vacuuming or washing is recommended. It is a very minimal and aesthetic design for anyone looking for a great quality desk mat.
If you want to take a look at how this mat looks on a desk and in a video, then I have a review of it on my YouTube channel, MC 5tuffz, linked below.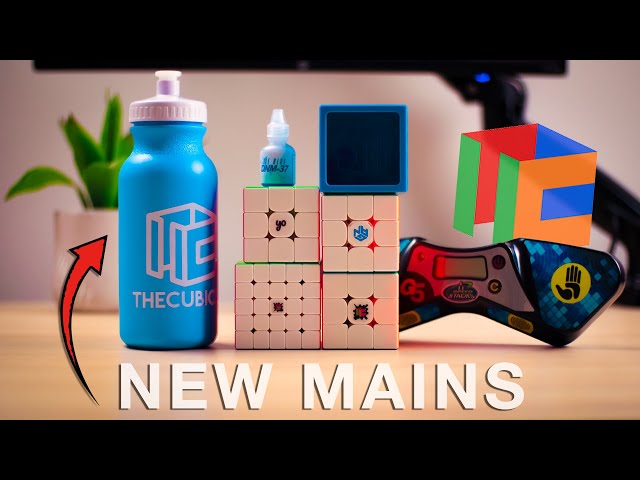 Cubicle Speedcubing Mat Large (Dark Mode)