---
Product Description
This is the world's first factory magnetized 11x11! The DianSheng Galaxy 11x11 M has incredibly smooth turning, a medium magnetic feel which is perfect for big cubes like this, and a concave outer layer that makes the grip more secure. This is a fantastic puzzle that will make any big cube fan happy!
Our Promise to You
All of our products are guaranteed to be free of defects, or we will replace and reship at no cost to you. Please contact us within 4 weeks (28 days) past the delivery date to report any issues with items you have purchased.
Please note that some new cubes when being used for the first few times may experience what is termed a "pop". This is when one or more parts of a puzzle pop out without any damage actually being done to any of the pieces. This also occurs from time to time during normal usage. Pops are typically not considered a defect if the parts which come off can be reassembled by hand.
The corners on 2x2 puzzles should not be twisted as doing so may snap the piece. Damage caused by corner twisting is not considered to be a defect.
Fast & Free Shipping Available!
Free standard U.S. shipping (includes Hawaii, Alaska, and AFO/APO) (2-5 business days) is offered for orders with a subtotal of $55.00+. Free expedited shipping (1-3 business days) is offered at $85.00+.
All orders are shipped from our New York warehouse.
Orders are shipped the same business day they are placed, or the next business day. The cutoff for same day shipping is 3PM EST.
There is no processing/handling surcharge — all our shipping rates are at rock-bottom.
For our customers outside the U.S.:
We ship to all countries not sanctioned by the U.S. government.
We advise that you look into your country's customs laws before ordering.
Smooth and stable
I got the Galaxy 8x8 and 9x9 and was really happy with them. I decided to skip the 10x10. I figured the 11x11 would be a little clunky and not that smooth to solve. But after only adding a little lube I believe the 11x11 feels better than the 9x9. I don't know how that's possible. But that's just how impressed I am with the stability, turning, and overall feeling. The magnet strength is really nice. Strong enough to keep cube shape. But east enough to make centers and pair edges. The only downside is the cube has a tendency to pop when solving at higher turning speeds. That's my inaccuracy with turning. And I wish it wasn't as easy to get a pop. But honestly that's my only complaint with the cube. It is pretty easy to fix the cube after it pops. So that adds a few points. It would be a 9-10. But instead I'll give it a 9.3/10.
Awesome Cube!!!
Every year, for my son's birthday, he gets that size/number cube and this year, he turned 11, so we decided on this 11x11x11 because it was magnetic, squared, and small enough to manage for small hands. He says it turns great and the grip is a bit different because the corners and edge pieces are slightly concaved within the pieces themselves. So far, its a pretty awesome cube and he's already solved it 3 times in the 24 hours that he's had it, solving it in 28m 50s!! He also did a pretty cool superflip pattern on it! Overall, he gives it 2 thumbs up!!
Very high quality
This cube is a lot of fun. This is my first time with a cube this size, but from what I can tell this cube is premium quality. The magnets help with aligning, though you won't be speedsolving this thing. It's also quite small so it fits in your hands easily. If you really want an 11x11, I can't say if this is the best price value. But it's probably the smoothest and sturdiest one.
Best 11x11 on the Market (but not perfect)
This puzzle turns pretty decently out of the box, and even better after a few solves and lots of lube (I used DNM-37).
The size of this cube is great. It's small enough to where algorithms are possible through muscle memory (though I do have slightly larger hands). This small size also means it's not necessary to table the cube to keep layers in alignment. It's also light and not too straining on the hands during a full solve.
The magnets also help a bit with layer alignment, though they do not eliminate misalignments & locking completely. This is because the magnets aren't quite strong enough to keep the layers snapped together. Due to this issue, this is not really a puzzle that can be speed solved without paying close attention to allignment.
If an 11x11 SPEED CUBE is what you are looking for, I don't think this hits the mark quite yet. But if you're looking for the nicest feeling and most fun 11x11 currently available, this one is hard to beat.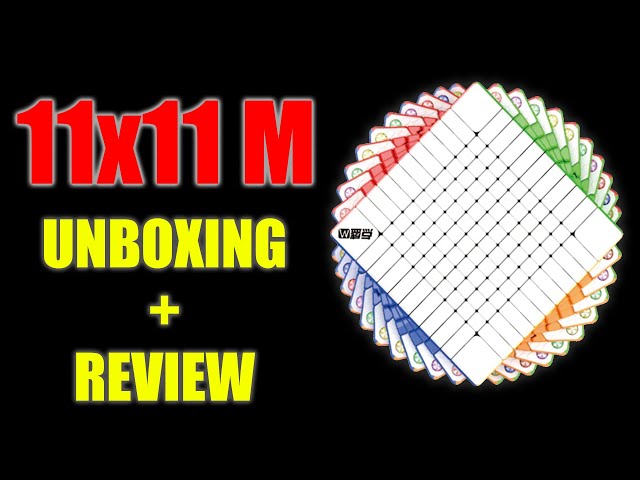 Magnets are not nearly strong enough for speedsolving. Size is great and turns good for casual solving but too many lockups with the weak magnets.