---
Product Description
The FangCun Ghost Cube is a very challenging 3x3 shape mod. While there's only one color, the many different-sized pieces make the ghost cube a unique challenge.

The FangCun Ghost Cube is available in black, blue, yellow, pink, and white and it comes with either a Silver, Gold, or White set of ghost cube stickers. The stickers are not necessary for solving the puzzle, but they can be applied to the puzzle if desired.
Our Promise to You
All of our products are guaranteed to be free of defects, or we will replace and reship at no cost to you. Please contact us within 4 weeks (28 days) past the delivery date to report any issues with items you have purchased.
Please note that some new cubes when being used for the first few times may experience what is termed a "pop". This is when one or more parts of a puzzle pop out without any damage actually being done to any of the pieces. This also occurs from time to time during normal usage. Pops are typically not considered a defect if the parts which come off can be reassembled by hand.
The corners on 2x2 puzzles should not be twisted as doing so may snap the piece. Damage caused by corner twisting is not considered to be a defect.
Fast & Free Shipping Available!
Free standard U.S. shipping (includes Hawaii, Alaska, and AFO/APO) (2-5 business days) is offered for orders with a subtotal of $55.00+. Free expedited shipping (1-3 business days) is offered at $85.00+.
All orders are shipped from our New York warehouse.
Orders are shipped the same business day they are placed, or the next business day. The cutoff for same day shipping is 3PM EST.
There is no processing/handling surcharge — all our shipping rates are at rock-bottom.
For our customers outside the U.S.:
We ship to all countries not sanctioned by the U.S. government.
We advise that you look into your country's customs laws before ordering.
Product Specifications

Manufacturer
FangGe
Type
Shape Mods
Added
2018-10-14
Gross Weight
136g
Bad
The center pieces fall of pretty easily/often and the stickers are too big and get pushed off as you turn. I also had several pieces pop out all at once and I reassembled it and will not being playing with this again.
Master of deception: Beware, Difficult!
Accidentally scrambled it and I can't solve it now...
If you want a devious little cube that gives you a mind-twisting challenge, this is for you!
Locks way too much to be any fun. Not really usable.
Yes, we all know the ghost cube is challenging; but while challenging is fun, frustrating is not. And this is frustrating, because you can't focus on your solve, because you'll be dealing with lockups, trying to wiggle it and rotate and look for where it's locked and you'll forget where you are in your solve and have to start all over again from the very beginning. And that's not fun at all. I've just had that happen 3 times in a row and much as I hate to have a cube sit on the shelf unsolved, it's just not worth it to spend all night dealing with the poor usability of what would otherwise have been a fun, challenging puzzle. Get it because you need to be able to say you've solved the ghost cube, but after you've got the bragging rights, you won't be pulling it off your shelf for a fun solve again, because the constant lockups are too frustrating for it to be any fun. It's just annoying.
I did try lubing it with DNM37, it didn't make a difference.
Wrong one was delivered
I ordered the black one, but I got a silver one. Besides that, the cube is great.
Thanks for your review! I just looked at your order, and it looks like you purchased a black cube with silver stickers. If that isn't what you received, please let us know and we'll do what we can to fix it.
-Greg S
EWWW
The stickers keep peeling off and one is already completely missing. It keeps locks up.
Good puzzle
Moving is great but stickers were placed badly so I had to trim some of the stickers because when I moved the peices they would hit the stickers.
Love the cube, not the sticker placement
This is a very fun and interesting shape mod, it feels almost like a cross between mirror cube and mastermorphix. Mine turns great out of the box and I was really surprised with how well it corner cuts, which I find to be a huge help on puzzles like this that can be tricky to keep the layers aligned as you're solving.
A few other people have mentioned this, but due to the shape of the pieces a few of the stickers start peeling as soon as you scramble the puzzle because they're slightly offset and catch on the other pieces. You technically don't need stickers at all though, and if they get worse I'll just end up peeling them and enjoy my matte black cube as is.
Fun shape mod, 1 sticker is peeling after 1 day
I only own this ghost cube; I don't own the Meffert's 3x3 ghost cube, or any other nxn ghost cubes. I bought the black cube with silver stickers.
This is fun to solve, even if you need to refer to pictures of the faces of the solved cube. Mine turns well, even without lube, after about 5 minutes. I imagine popping might be an issue for others, as the "cubies" are looser than normal, but I'm not speed solving this cube. For me, the only problem is that one of the pentagonal stickers on one of the "centers" started peeling because it was applied off-center and started catching as I rotated layers of the cube.
Hint: There can be a parity issue if you're solving this by the beginner's method, as two of the trapezoidal pieces look very similar. If you get a pre-stickered cube, you'll notice that the "grain" on the stickers on each solved face should be aligned. If you want an extra challenge in solving this cube, take off the stickers.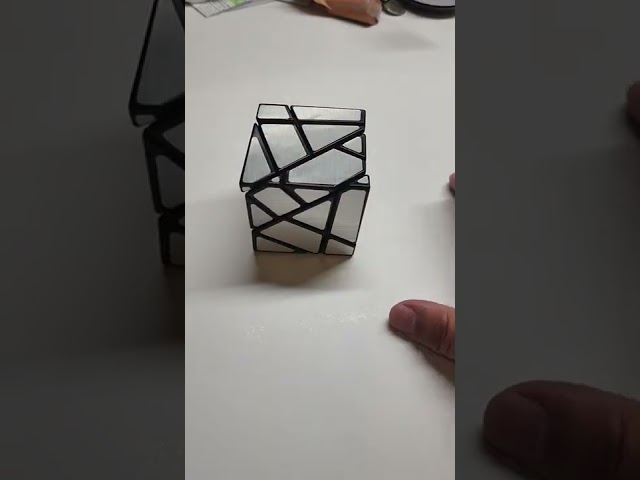 Imperfect sticker placement
One sticker got bent and yanked because it was not placed perfectly. I had to remove it, uncurl it, and place it back. It's not sticking so well now. Maybe I'll remove all stickers if it remains a problem. I understand this is like a jumbled 3x3 but I'm finding it tough finding which and where pieces belong. A 3x3 mirror block cube is so much easier. I might need to look at photos to understand the piece placements.
Fun puzzle, turns terribly
I have only solved this cube once. It took me about five hours, despite most shape mods only taking me about five minutes, primarily because I kept losing track of where I was in algorithms because the cube constantly locks up and finding the cause of the lockup is near impossible to do quickly. Overall a good cube if it wasn't for the unbelievably bad turning (I've compared the turning to a 1920's car with the steering wheel welded in place when describing it to friends if that gives some idea). Also the stickers somehow started peeling off just from the lockups.
Thanks for your review! FangCun puzzles tend to turn badly our of the box because they are not well-lubed from the factory, but a drop of light lube like Silk or DNM-37 usually makes them much better. You can also loosen the screws a bit if the lube doesn't do enough.
-Greg S