---
Product Description
The GAN Mini M Pro 3x3 is a high performance speedcube in a small form factor. At 53mm across, this is the smallest fully adjustable 3x3 to ever be released. With 7 different magnetic settings and 16 different tension/compression settings, there is sure to be a setup here for you!
Our Promise to You
All of our products are guaranteed to be free of defects, or we will replace and reship at no cost to you. Please contact us within 4 weeks (28 days) past the delivery date to report any issues with items you have purchased.
Please note that some new cubes when being used for the first few times may experience what is termed a "pop". This is when one or more parts of a puzzle pop out without any damage actually being done to any of the pieces. This also occurs from time to time during normal usage. Pops are typically not considered a defect if the parts which come off can be reassembled by hand.
The corners on 2x2 puzzles should not be twisted as doing so may snap the piece. Damage caused by corner twisting is not considered to be a defect.
Fast & Free Shipping Available!
Free standard U.S. shipping (includes Hawaii, Alaska, and AFO/APO) (2-5 business days) is offered for orders with a subtotal of $55.00+. Free expedited shipping (1-3 business days) is offered at $85.00+.
All orders are shipped from our New York warehouse.
Orders are shipped the same business day they are placed, or the next business day. The cutoff for same day shipping is 3PM EST.
There is no processing/handling surcharge — all our shipping rates are at rock-bottom.
For our customers outside the U.S.:
We ship to all countries not sanctioned by the U.S. government.
We advise that you look into your country's customs laws before ordering.
Meh
I got this cube a while ago but haven't really messed with it much mostly because I didn't like it. I just picked it back up to try and set it up but it's official, this cube is just meh. The magnets are pretty strong no matter what setting or which magnets and it's either way too tight or way too loose to where it pops constantly. It's also just way too slow in my opinion. My two mains at the moment are the Maglev Weilong and the Gan 356M and both of those are miles faster no matter the setup. I've thrown so much DNM-37 in there and it works for about 5 seconds. Overall I'm just very disappointed in this cube since I love smaller sizes but honestly, I loved the 354M so much more. It's not the worst cube ever, just very disappointing for me. Maybe the smaller layers just makes the core magnets stronger, making the cube slower? Either way, it makes me nervous to try another cube with core magnets.
Hi Ethan,
This cube is more similar to newer GAN cubes than the 356 M, but the 12, 13, and 14 have MagLev and are faster. However, if you want a more modern version of the 356 M, the YS3 is actually much closer than a new GAN cube.
-Greg S
Best OH cube
My only cubing goal for the year has been to get a sub-10 OH single. I previously mained the CH MoYu Weilong WR M Maglev (10.79 PB, sub-20 ao1000), but found it too large and heavy. So I switched to the Mini M Pro and have in ~4 months (with no new algorithms or technique change) managed a sub-17 ao1000 and a 7.64 PB single. Below you'll find a summary of the strengths and weaknesses of the Mini M Pro in terms of OH performance.
Strengths:
- Corner-core magnets provide additional stability necessary for my OH turning style (CFOP, no table-abuse)
- Lightweight, allowing for longer sessions and higher max TPS
- Small, allowing for easier and more reliable execution of fingertricks
Weaknesses:
- Occasionally, the center pieces will rotate to an unstable position (pictured below) mid-solve, necessitating a pause and thus a worse time
- Slightly more prone to pops than previous OH mains
- Expensive, yet won't actually make much of a difference in terms of OH performance until sub-30 ish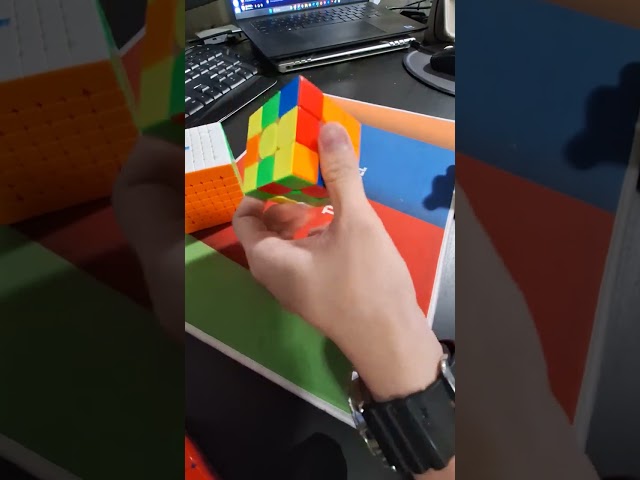 Best cube for one handed!
The Gan Mini M Pro is an excellent cube that instantly became my one handed main. The cube is smaller than a traditional 3x3 which can be easier for people with smaller hands or one handed solving. It was pretty dry and scratchy out of the box but fast. After some setup, the cube felt way better while retaining that Gan cube feel. I 100% recommend this cube.
Might be better than the 11m pro
This cube is quite good, it cuts well, the lube distributes nicely, and overall very fast. I broke my pb with it, as well. It is basically the Gan 11 m pro for people with smaller hands.
It is also worth its price. Probably worth more, even.
good
its pretty good but there is one problem it is pretty loud and i don't have any lube.
Nice, but...
First at all- a nice little Cube. The traditional gan feeling. I scramble with this cube since january.
some features bother me:
-the sound is very clicky and turning is loud
-the honeycomb surface of the edge piece is unfavorable. In hard cornercuts its a Problem- like a height heel. This is a general problem of the mould you can not fix
-the weight saving let the cube eat the lube. Each lubrication isnt long lasting
-the magnet settings feel completely too strong with the corner core magnets.
Almost perfect
Perfect in any way, but there aren't many tension settings, but the stock ones are really good. The only actual bad thing is the cathing problem like with the gan 11 . For the price it's worth it.
Super good
So good for people with small hands I even think it's better than I he Gan 12
Gan mini m pro - good for small hands
The settings are a little bit hard to change, but
otherwise the cube is perfect for cubers who have little hands.
Small scale, big help
Got this to reduce srain in my hands for one handed. Amazing customization and great feeling. Might even use it for 2 handed because It's comfortable and cuts really nice