---
Product Description
The GAN Snake is more than your traditional snake puzzle. This one is magnetic and all of the pieces are detachable. Give this fun twist on a classic puzzle a try!
Our Promise to You
All of our products are guaranteed to be free of defects, or we will replace and reship at no cost to you. Please contact us within 4 weeks (28 days) past the delivery date to report any issues with items you have purchased.
Please note that some new cubes when being used for the first few times may experience what is termed a "pop". This is when one or more parts of a puzzle pop out without any damage actually being done to any of the pieces. This also occurs from time to time during normal usage. Pops are typically not considered a defect if the parts which come off can be reassembled by hand.
The corners on 2x2 puzzles should not be twisted as doing so may snap the piece. Damage caused by corner twisting is not considered to be a defect.
Fast & Free Shipping Available!
Free standard U.S. shipping (includes Hawaii, Alaska, and AFO/APO) (2-5 business days) is offered for orders with a subtotal of $55.00+. Free expedited shipping (1-3 business days) is offered at $85.00+.
All orders are shipped from our New York warehouse.
Orders are shipped the same business day they are placed, or the next business day. The cutoff for same day shipping is 3PM EST.
There is no processing/handling surcharge — all our shipping rates are at rock-bottom.
For our customers outside the U.S.:
We ship to all countries not sanctioned by the U.S. government.
We advise that you look into your country's customs laws before ordering.
Product Specifications

Manufacturer
GAN
Type
Non-Puzzles
Added
2022-01-26
Gross Weight
325g
Item Weight
120.0g
Better than I could've imagined!
Well worth the price with amazing quality! I'm surprised by the creative range I have with it and hope to beat my 4.8 sec PB
Extremely good
I got a PR of 4.30. This snake has very good turning quality. Just dont' get bit!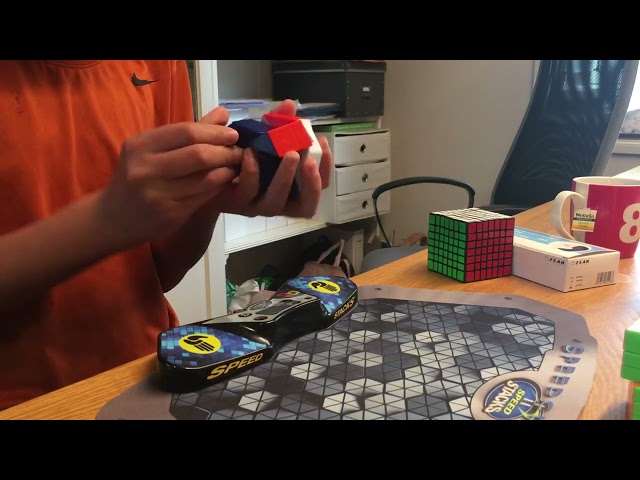 Extremely fun & satisfying fidget
Obviously, magic snakes aren't puzzles, they're fidgets. With a foldy-type fidget like this, the most important thing is the feel of the plastic and how it moves. The GAN snake feels and moves completely differently from the QiYi or Rubik's snake- It has much smoother plastic and is more flexible without being unstable. This makes the GAN snake by far the most fun snake I've ever used, and maybe even the most fun fidget I've ever used just in general. I also love the fact that there are 2 snakes in this pack and you can detach pieces to mix and match them, or use the second snake as spare parts if needed.
It is expensive so you shouldn't throw it across the room obviously, but if you use fidgets every day and you want something that's reasonably sturdy & feels great to fold into different shapes, I think the price tag might actually be worth it for you.
The BEST Snake I Ever Played With
When I opened this Gan snake I received two snakes that looked like the ones in the picture. I was surprised to find that both of them were together and that you have to use the buttons on each triangle to separate them(The yellow one and the red white and blue one do you come as separate snakes). When you turn these snakes and they do not make any sort of clicking sound they are silent and smooth and really easy to turn if you were looking for a good snake I recommend these snakes for you. I also not only can you take apart the snakes when you take each one out of the box, you can also arrange the triangles on each snake in any pattern and orientation you want as long as the triangles match up with each other. You can even make a 12 snake with these cubes or you can make a 48 snake by combining both snakes into one!
It bit me
Lovely product. That said, I am in the hospital after suffering anaphylactic shock from getting bit. I suggest de-fanging it, or else you might end up in my position. Happy solving, good luck, don't get bit!
#snakeforwca
A little disappointed by no mag lev. I set mine up with celeritas, gravitas, and mystic. Has nice crisp turning and excellent corner cutting. Hopefully this will get people to start practicing snake and eventually lead to a new WCA event to fill the hole that 3x3 with feet has left in my heart. I'm proud of Gan for branching out and trying new things. With a little creativity anything is possible! I got a 25.56 line to ball time which is good for me so that means this snake is fantastic and totally worth 50 bucks. It is the ultimate PB renewer. Another home run for Gan.