---
Product Description
The MeiLong 5x5 M is a new magnetic 5x5 speed cube from MFJS! This puzzle gives you fantastic performance and a quality magnetic feel at a fraction of the price!
Aka: Meilong 5M
Our Promise to You
All of our products are guaranteed to be free of defects, or we will replace and reship at no cost to you. Please contact us within 4 weeks (28 days) past the delivery date to report any issues with items you have purchased.
Please note that some new cubes when being used for the first few times may experience what is termed a "pop". This is when one or more parts of a puzzle pop out without any damage actually being done to any of the pieces. This also occurs from time to time during normal usage. Pops are typically not considered a defect if the parts which come off can be reassembled by hand.
The corners on 2x2 puzzles should not be twisted as doing so may snap the piece. Damage caused by corner twisting is not considered to be a defect.
Fast & Free Shipping Available!
Free standard U.S. shipping (includes Hawaii, Alaska, and AFO/APO) (2-5 business days) is offered for orders with a subtotal of $55.00+. Free expedited shipping (1-3 business days) is offered at $85.00+.
All orders are shipped from our New York warehouse.
Orders are shipped the same business day they are placed, or the next business day. The cutoff for same day shipping is 3PM EST.
There is no processing/handling surcharge — all our shipping rates are at rock-bottom.
For our customers outside the U.S.:
We ship to all countries not sanctioned by the U.S. government.
We advise that you look into your country's customs laws before ordering.
Good Stuff
A solid cube for a good price. Wish the magnets were Slightly stronger, but can't complain too much for a bargain. woks well with silk lube.
MFJS 5x5
Good 5x5, worth the price, definitely recommended, CubeReview out.
Really good 5x5
This is an amazing budget 5x5, I got this one bc my last one was nonmagnetic and was becoming very slow. whenever I got this one my pr dropped on the first solve by 32 seconds (I averaged 4 minutes before, now I average about 3:30) the second solve I did was my new pr at sub 3 minutes, so this is a very worth while cube
best budget
really fast and smooth soo soft magnets dont feel them much best one under 15 $ if you add 10 $ you can get the mgc which is the best one and i dont like the size of the meilong at all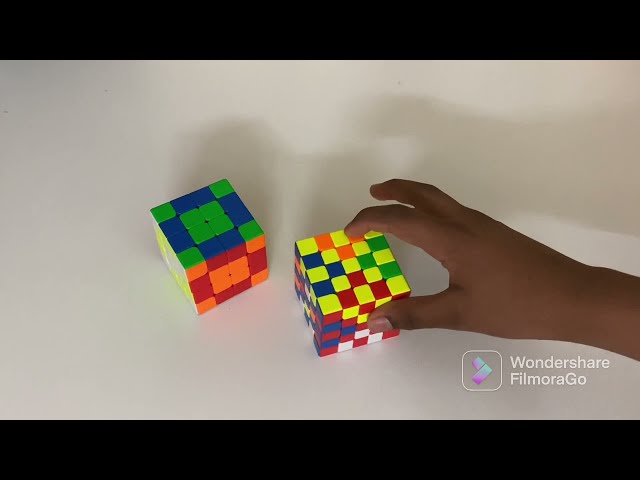 Good budget cube
My son is happy with this cube.
Amazing!
So givin I had only tried a non magnetic 5x5 before, I was totally ready to get this cube. I could've gotten the MGC, but I wanted to see how well budget cube are, so I got this. First turns, it was a little rough. Some people who got this puzzle says that the edge of the screws are sharp and will grind away at the plastic of center pieces, but I have not experienced that. At least, not yet, but hopefully it will never happen. My old main broke, which was the Qiyi Qizhert 5x5 s, which wasn't that fast. Why did I try solving it underwater.
Anyways, get this cube.
good 5x5, but 1 small problem with easy fix
out of the box, the cube reminded me a lot of the meilong 4 m because it was fast and swooshy, the tensions were perfect and corner-cutting was great.
whilst I was setting up the cube I noticed that the center lip of the cube was getting grinded by the bottom of the spring and little plastic chunks were coming off, this is most likely due to the springs being low quality with a rough end on the springs. some of the ways to fix this would be to either add a washer to the bottom, add some thick lube like weight 5, or what I recommend, lubicle black, sand down the end of the spring to smoothed it out, or all of the above.
i set up the pieces with a lot of lubicle 1 and quit a bit of silk and weight 5 in the inner layers to make 3x3 stage more enjoyable as the inner layers are being held together by both the magnets and thicker lube.
in conclusion, I think that this is a great 5x5 for its price but there is just 1 small problem with the core but there is an easy fix. overall this cube is great and I dropped my times by about 25 seconds.
I highly recommend this cube as long as if you are willing to fix the core
BEST BUDGET 5x5!
Okay, a lot of people reviewed and said that this cube wasn't that great, but it is honestly the best budget magnetic 5x5!! (Honestly better than some non-budget 5x5's) . I mean it's a great size, it rarely locks up on me, the magnet strength is good, it's extremely smooth, and it's was fantastic right out of the box! I think it's a great 5x5 for immediate cubers, beginners, and maybe pro cubers!! All around, it's just a great cube for a great price! Ps: it doesn't feel boxy, or and it feels nothing like the non-Magnetic 4x4 !!!