---
Product Description
The WeiLong WR M 2021 is the latest flagship 3x3 from MoYu. This updated design now features adjustable magnets along with the standard MoYu spring compression/tension system. The WR M 2021 offers a softer feel and more customization at a lower price!

Comes with:
WeiLong WR M 2021 3x3
Magnet adjustment tool
Spring compression tool
Cube case/stand
Extra accessories and hardware
wrm 2021
Our Promise to You
All of our products are guaranteed to be free of defects, or we will replace and reship at no cost to you. Please contact us within 4 weeks (28 days) past the delivery date to report any issues with items you have purchased.
Please note that some new cubes when being used for the first few times may experience what is termed a "pop". This is when one or more parts of a puzzle pop out without any damage actually being done to any of the pieces. This also occurs from time to time during normal usage. Pops are typically not considered a defect if the parts which come off can be reassembled by hand.
The corners on 2x2 puzzles should not be twisted as doing so may snap the piece. Damage caused by corner twisting is not considered to be a defect.
Fast & Free Shipping Available!
Free standard U.S. shipping (includes Hawaii, Alaska, and AFO/APO) (2-5 business days) is offered for orders with a subtotal of $55.00+. Free expedited shipping (1-3 business days) is offered at $85.00+.
All orders are shipped from our New York warehouse.
Orders are shipped the same business day they are placed, or the next business day. The cutoff for same day shipping is 3PM EST.
There is no processing/handling surcharge — all our shipping rates are at rock-bottom.
For our customers outside the U.S.:
We ship to all countries not sanctioned by the U.S. government.
We advise that you look into your country's customs laws before ordering.
GREAT BTER THAN MOST A LOT OF CUBES!!!!!
This cube is great, it did come a little loose out of the box, but with some tensing and a little bit of cubicle lab silk, it was great. Also my main.
Very good when set up
The cube OOTB is very fast and a little bit sandy. I set it up and it is such a good cube. I would recommend this to anyone.
Overall good cube
I first got this cube about a month back in July my current main then was the rs3 m 2020 and I really liked it. When I first got this cube it was really slow and dry. I lubed it with dnm weight4 and mystic. It was really slow and I didn't like it. I added some more mystic and it became a lot faster. I have it on the 5 th elasticity setting and the strongest magnet setting which is the 1st one. Overall this cube can be extremely good but you have to set it up correctly. I got my first sub 10 single on this cube which is a 9.83 and I got a 12.59 ao5.
Great cube for the price
It is my warmup/backup cube. It is great out the box and all I did was lube it with dmn 37 to make it a bit more faster. the corner cutting is pretty good. but when I tried to change the magnet strength the tool broke. But if you have the tornado V2, that tool that is used to change the magnet strength does work with the WR m 2021
Amazing Cube, Came Broken.
I absolutely love this cube, in fact its my main at the time of posting this. It has a great crispy airy feel. Unfortunately mine came with a loose magnet in the edge that created a horrible click every time I turned making it unusable, I did some research and found that others have had the same issue. It appears to be fixable but I didnt trust myself and ultimately ended up taking the magnet out.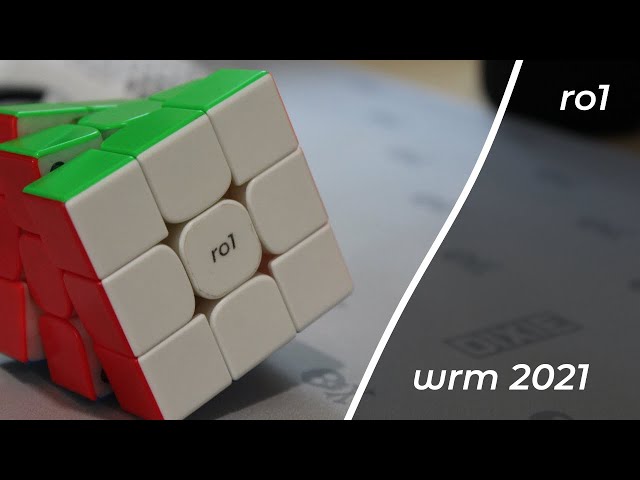 Amazing Cube
Really fits my turning style lubed it with Weight 5 to slow it down a bit and some silk so it can glide rlly good cube would recommend.
Excellent Cube
Out of the box the cube was extremely smooth and fast. It was also a little loose for my liking, but setting it up was quite simple. It took a little getting used to, but afterwards, I have shaven off a few seconds from my solves out of speed alone.
Fantastic cube.
This cube right here is one of the best valued cubes right now. High speed, very smooth and light turning and overall is just great. I have mine at the middle elasticity, stock tensions, #2 magnet strength and put in a bit of DNM-37 and Mystic and it gives the cube a very fast, smooth turning, good stability and a bit of a clacky, responsive feeling that I love. Really awesome cube, especially for the price.
Great cube
Out of the box it is fast cube
WRM 2020 meets Gan 11m pro and Tangju V2
Just FYI, I am a ZZ solver mostly though I sometimes do CFOP and Roux. I am prone to getting Repetitive stress injuries on my hands and wrists so also keep that in mind.
About a year ago, I got back into cubing after a fairly long hiatus. I bought myself a Gan 356m and I really enjoyed it until the plastic core broke when I dropped it. I had been hearing a ton of good things about the WRM 2020 and the RSM 2020 at the time so I decided to buy both of them at the same time to see which one could replace my broken Gan cube. I ended up keeping the WRM 2020 because I liked the feel a bit more and it fit my turning style to a T. Flash forward to when the 11m pro was released; I bought it and tried it out. I really liked the weight of that cube but the feel just wasn't as good as the WRM 2020 for me (its a great cube but it didn't give me enough to justify the extra cost).
Now with the WRM 2021, I don't really have to choose between a lighter weight puzzle or a better feel because this puzzle has both in spades. Out of the box, the cube has a very papery feel because it's completely dry (at least as far as I could tell). It very much reminded me of how the Gan 11m pro felt when I got it at first; turning on both cubes is light and airy. Some lube and a couple solves later and this thing basically feels like a lighter and quieter version of the WRM 2020 (hence the comparison to the Tangyun v2).
If I had any complaints about this particular puzzle, it's that its magnets are a bit too weak to justify the adjustment system. At the strongest setting, the magnets are about as strong as the original WRM and at the weakest setting, it's like playing without any magnets at all. Frankly, I see very little reason why anyone would change the magnet settings on this cube from the setting out of the box which makes the feature almost irrelevant. That said, the cost is the same as the original WRM 2020 so it's not as though you are paying more for the magnet adjustment system.
Seems like these days, all flag ship cubes are completely solid choices and that the main difference comes down to feel. Moyu is a solid company and their cubes have a very specific feel to them that fits a ton of cubing styles; I recommend checking this one out if you are looking for a new cube.