---
Product Description
The QiYi MS 2x2 is a magnetic 2x2 speed cube built for performance and economy. Part of QiYi's new economy "MS" line, this 2x2 has an unbelievably light and quick feel. This puzzle is sure to please beginners and advanced solvers alike.
The MS Series from QiYi is transitioning to frosted plastic. The puzzle you receive may be glossy or frosted.
Our Promise to You
All of our products are guaranteed to be free of defects, or we will replace and reship at no cost to you. Please contact us within 4 weeks (28 days) past the delivery date to report any issues with items you have purchased.
Please note that some new cubes when being used for the first few times may experience what is termed a "pop". This is when one or more parts of a puzzle pop out without any damage actually being done to any of the pieces. This also occurs from time to time during normal usage. Pops are typically not considered a defect if the parts which come off can be reassembled by hand.
Fast & Free Shipping Available!
Free standard U.S. shipping (includes Hawaii, Alaska, and AFO/APO) (2-5 business days) is offered for orders with a subtotal of $45.00+. Free expedited shipping (1-3 business days) is offered at $75.00+.
All orders are shipped from our New York warehouse.
Orders are shipped the same business day they are placed, or the next business day. The cutoff for same day shipping is 3PM EST.
There is no processing/handling surcharge — all our shipping rates are at rock-bottom.
For our customers outside the U.S.:
We ship to all countries not sanctioned by the U.S. government.
We advise that you look into your country's customs laws before ordering.
Product Specifications

Manufacturer
QiYi MoFangGe
Type
2x2
Added
2020-04-24
Gross Weight
120g
Magnets
Magnetic
Item Weight
58.7g
---
This product is part of a bundle. Buy together to save 10-30%!
Best budget 2x2
Best budget 2x2
It turn really well out of the box. Add a bit of silk or dnm 37 and it's perfect. Turn smoothly and has good corner cutting Can suit any cuber. Would recommend over the mgc (especially for 7$) !!
Best budget 2x2
It turn really well out of the box. Add a bit of silk or dnm 37 and it's perfect. Turn smoothly and has good corner cutting Can suit any cuber. Would recommend (especially for 7$) !!
Almost great
It is a blocky feeling cube and is a joy to turn...... Except I really hate the two magnets. I think most 2x2 have a magnet set up like this and it is horrible when turning. I think cubes in general should try placing the magnets closer to the center to avoid that annoying snappy magnet feel. The closer the magnets to the center, the more distributed the magnetic feeling will get and the more natural the turning of the cube will feel. I know this as I removed the edge magnets on my Gan m 11 pro and only left the core magnets. Let me tell you, it is stable as hell and you don't notice the magnets. It feels like a classic non-magnetic cube that does not deform at all no matter how loose and aggressive you turn, it stays in shape. This should be the future of magnetized puzzles.
QiYi MS 2x2
This 2x2 is one of the best 2x2s I have ever tried. It is my new main. It has super strong magnets. I would strongly recommend it. Also check out my detailed review I will link below.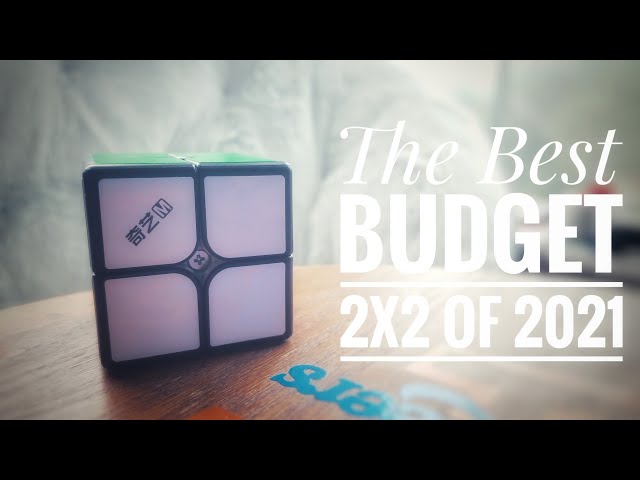 Great cube, but...
This is a great cube with excellent performance.
However, if you use it too much eventually the corner pieces will start to break, and you just need more and more replacement parts to fix it.
So, if you do 2x2, but don't really practice it or care about it, get this, because it is awesome, very cheap, and probably won't break unless you use it a ton.
If you are actually a serious 2x2'er, getting a more expensive one is probably worth the money.
Cubicle QiYi MS 2x2: High Expectations!
Okay, before you read this review I would like to say that I am not a good 2x2 solver. This is my main. This Cube has a hollow feel when you turn which is great. It is light and it's also fairly fast (thought I am not). The one problem I have with it is the tensions. It feel loose yet it can't corner cut over 40°. This was easily fixed with some Cubicle Labs Silk on the Core. This puzzle after that is nearly flawless for me! I always find myself reaching for this puzzle! This was a short review (I know that) but it was a fun one to make and I hope it helped you decide if you want it or not. Thanks!
Really good
This is a very good magnetic 2x2 for 7 bucks and it has a very light, smooth turning style
Smooth
This 2x2 was very smooth and we'll made. I love it.
Great cube
Out of the box it was super smooth and the magnets are nice. It's a little small compared to my Dayan 2x2 but overall it's just a great budget cube
pretty good
It was really good at first but then the internals start popping out so I have to put it back together but one time wasn't going in so I had to take it out and leave it out then a couple of days later it exploded on me and it's a pain to put back together but it's still good if that doesn't happen to you