---
Product Description
The QiYI Warrior S is a new budget friendly 3x3 speed cube from QiYi MoFangGe. An updated version of the Warrior W, the Warrior S features an upgraded mechanism for better performance.
Our Promise to You
All of our products are guaranteed to be free of defects, or we will replace and reship at no cost to you. Please contact us within 4 weeks (28 days) past the delivery date to report any issues with items you have purchased.
Please note that some new cubes when being used for the first few times may experience what is termed a "pop". This is when one or more parts of a puzzle pop out without any damage actually being done to any of the pieces. This also occurs from time to time during normal usage. Pops are typically not considered a defect if the parts which come off can be reassembled by hand.
Fast & Free Shipping Available!
Free standard U.S. shipping (includes Hawaii, Alaska, and AFO/APO) (2-5 business days) is offered for orders with a subtotal of $45.00+. Free expedited shipping (1-3 business days) is offered at $75.00+.
All orders are shipped from our New York warehouse.
Orders are shipped the same business day they are placed, or the next business day. The cutoff for same day shipping is 3PM EST.
There is no processing/handling surcharge — all our shipping rates are at rock-bottom.
For our customers outside the U.S.:
We ship to all countries not sanctioned by the U.S. government.
We advise that you look into your country's customs laws before ordering.
Buy more and save!
| Quantity | Discount |
| --- | --- |
| 2-5 | 5% off |
| 6-10 | 10% off |
| 11+ | 15% off |
1Different variants of the same product can be mixed and matched
2Products on sale do not qualify for bulk discounts
Product Specifications

Manufacturer
QiYi MoFangGe
Type
3x3
Added
2019-10-31
Gross Weight
95g
Dimensions
55.5mm3
Item Weight
77.0g
my first speed cube
i got this for my birthday last year and was not disappointed, i would recommend this so anyone who is just starting cubing all i have to say is if they could make it so the plastic doesn't grind down fast i would be very happy
GREAT CUBE
This cube is durable,fun to use, smooth turning, sticker less. All in all great cube!!!!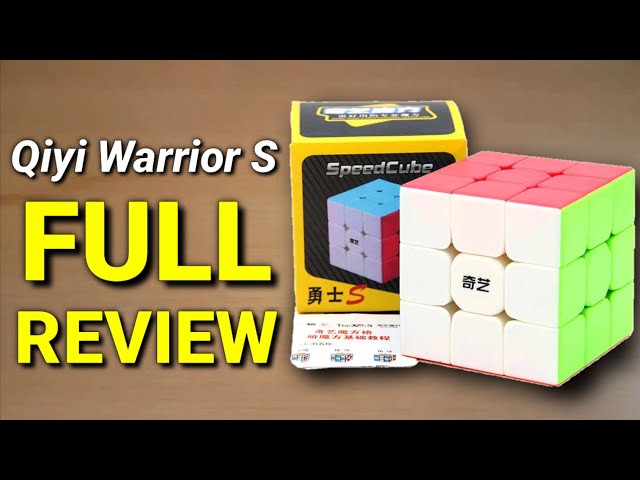 Surprisingly good
I really like this cube not only because it's cheap but also because it's good quality I love the texture of how the cube is made and how well-made it can turn for me this is a 10/10 I highly recommend it
nice cube
my first speed cube. very happy with the cube and fast shipping. would recommend to any beginner
Very nice
It's very smooth but a bit fast but still really good.
Decent cube as my first
This 3x3 was my first speedcube, and I thought this cube was as great as the more expensive brands but this cube is really different I now realize. The corner cutting on this is not great, and it is very flimsy. However, other than that, a pretty good cube for the price.
Great cube
Great 3x3! I'm not a speed cuber, but I've been solving twisty puzzles since early 2014 and have owned 100+ puzzles to date. I don't know if this is the fastest cube on the market or not, but it's certainly a very high quality cube. It turns very smoothly, feels very solid and well built, and looks great.
Qiyi Warrior S
This cube was my first speed cube and I still have and use it now. If you buy 6 of these you can make 6 Force cubes because you can take apart the pieces, it's a good turning cube and I really like it.
-Spongebob SquarePants
Hey!! Read this NOW
This Cube is really great. 5 starts DESERVED. The only problem is that if you turn it too aggressively it will easily lock up, but should not be a problem for people who know good finger tricks and can line up the cube accurately. All in all, a good budget cube for beginners and can definitely be a main. Pros should go for something better like a GAN cube. But if your not a pro cuber then Definitely buy this.
GOod
I really likes how this cube feels in my hands. You can definitely tell it is a budget cube just by turning it. I think the fastness is just right. I like how it never scratches. I know that is a weird thing to say, but this cube like never scratches. The only problem is the corner cutting. It doesn't corner cut that well. Other than that it is a great cube.:)